Skip to Content
Professional Gas Fireplace Refacing
A fireplace can add warmth and comfort to your home, but when you are unhappy with an outdated fireplace design, this feature may be more of a burden than a comfort. If you have a functioning gas fireplace, you can renovate without breaking the budget by refacing the fireplace with the new decorative framework. Whether you want to create modern sophistication or capture traditional style in your Ramsey home, KJB Fireplaces can offer the beautiful features necessary to design an elegant focal point in your living room.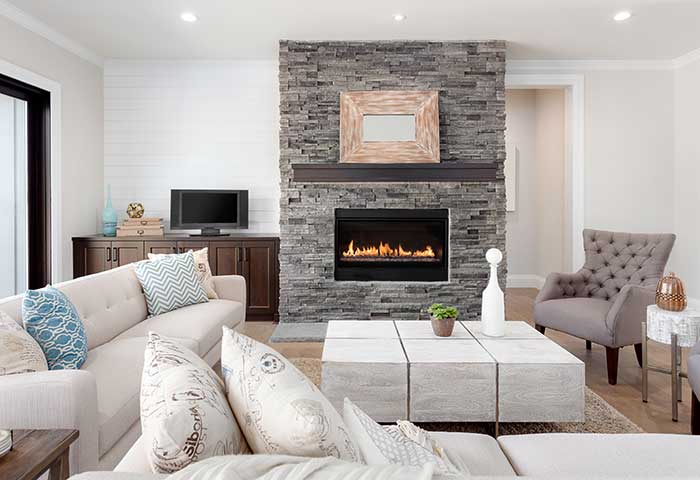 Elements of Refacing
There are several features that might be incorporated into a refaced fireplace. For some homeowners, it makes sense to retain some elements of the fireplace while replacing others. When a more extensive renovation is necessary, the whole surround and mantel might be replaced to achieve an entirely new look.
Below, you'll see exactly what you should think about when you are planning your refacing project.
Surrounds – The fireplace surround goes between the mantel and the actual fireplace. Popular materials for this piece are marble, granite, slate, and other natural stones since these are elegantly beautiful, non-combustible, and able to withstand heat. The surround may be incorporated into the mantel, or it may be a separate component depending on the look that you want to achieve.
Fireplace doors – While fireplace doors are not as essential for gas fireplaces as they are for wood burning models, they may still be a desirable feature for your refacing project. Glass doors come in standard sizes that will fit most fireplaces, though custom sizing is available with some manufacturers.
Mantels – As the framework of the fireplace, the mantel is an important component to think about, since it will be the centerpiece of the refacing project. Mantels may be constructed from natural stone like surrounds, or they can be crafted from wood, which may create more flexibility in paint and finishes.
Reasons to Reface Your Fireplace
One of the biggest advantages of fireplace refacing is the immediate improvement in the aesthetic appeal of a whole space. Fireplaces draw the eye as focal points in any room, so the cost of a refacing project may be well worth your investment. Plus, an updated fireplace can boost the value of your home, since buyers will be attracted to a fireplace that has modern appeal. Finally, you may consider refacing if the current veneer of your fireplace is not safe due to wear and tear that may take place over the years. For a complete look at what you can achieve with fireplace refacing, call KJB Fireplaces at 201-760-9585. We have more than 20 years of experience to provide insight for your project, and we carry a wide range of reputable brands to give your home the distinctive look you want.