Skip to Content
Converting Existing Wood Burners to Gas
While the rustic appeal of a wood burning fireplace may have its charm, many homeowners are opting to convert existing wood-burning fireplaces to gas fuel, which can be more environmentally friendly and convenient to operate. There are a few different ways that you might convert your wood fireplace if you already have natural gas in your home, and costs are generally low for hookups when gas lines are within 10 feet of the fireplace. If you are considering switching from wood to gas with your residential fireplace, KJB Fireplaces can help you explore your choices in depth with an array of beautiful options from industry-leading manufacturers.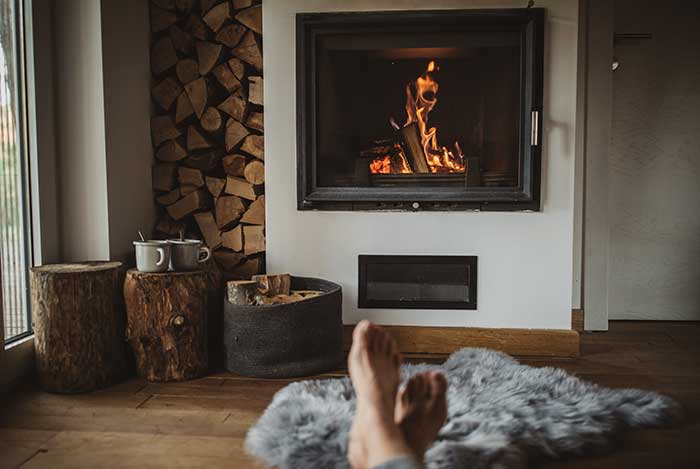 Conversion Options
Keep reading to get a better idea of what you might expect with your conversion project. You can complete a gas fireplace conversion on nearly any budget thanks to the flexibility of options when it comes to gas burners. Gas logs will preserve the structure of the fireplace and minimize the timeline of your project. Gas fireplace inserts will offer a whole new look and optimize efficiency for modern homes. No conversion will require significant structural changes, though you will need to run a gas line to the fireplace and utilize professional installation to ensure complete safety and functionality.
Gas Log Kits – Gas logs and sand pan burners easily convert wood to gas while preserving the open function of the fireplace. There is less heat than wood-burning fireplaces, but you can still expect warmth that might help you cut heating costs in the winter. If you want a less conventional look, fire glass is a unique choice that offers the same convenience as gas logs.
Gas Fireplace Inserts – Gas fireplace inserts use sealed chambers, which allow you to keep the fire running for hours on end. Because you are adding an insert to the fireplace, it will transform the look of the whole space rather than simply changing the fuel source. If you prefer the feel of an open fire, this option will not be ideal, since the chamber is always sealed behind glass doors.
Benefits of Gas Fireplaces
Regardless of which option you choose to convert your fireplace, you can expect many advantages with gas-burning fireplaces. For many homeowners, the convenience of lighting and putting out a fire at any time is preferred to light a wood fire. Plus, there is a reduction in carcinogen exposure and maintenance, which will further add to the value of your converted fireplace. To contact KJB Fireplaces in Ramsey for a more detailed look at wood fireplace conversion, call us at 201-760-9585. You can also continue to browse our website for more information about the manufacturers we work with.