Skip to Content
The Benefits of a Gas Fireplace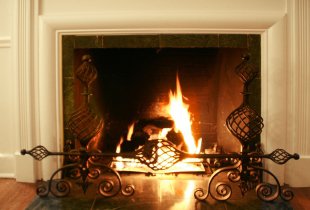 If you have ever been on the fence about whether or not to purchase a fireplace in Ramsey, you may want to look into a gas fireplace. This type of unit is advantageous because it is safer, more convenient, and more efficient than other types of fireplaces. If you live with children, want to save money on your energy bills, or desire a luxurious fireplace to relax near, keep reading to learn a little bit about the benefits of a gas fireplace.
Safety
Whether you live alone, with a roommate, or with a large family and pets, safety should always be a primary concern. Fortunately, gas fireplaces cater to this concern and help to make your home safer for everybody. Wood burning fireplaces have a tendency to contribute to the buildup of creosote on the inside of your chimney. Creosote is a flammable substance and can be very dangerous if it is allowed to remain on your chimney; since natural gas fireplaces do not make use of wood or chimneys, creosote is not a problem. With a gas fireplace, you will never have to worry about flames or sparks leaping from the fire and landing on your children or pets. A gas fireplace even protects the environment because it does not emit fumes into the air.
Convenience
A gas fireplace is a perfect addition to a home that is geared towards luxury and convenience. With this type of fireplace, your days of chopping wood are over. Since your gas fireplace does not depend on a stock of lumber, you do not have to worry about finding a place to keep your chopped wood. Installation is easy and you can even use a remote to control your gas fireplace.
Efficiency
A fireplace that does not work is not much of a fireplace at all. Fortunately, gas fireplaces tend to work better than their wood-burning counterparts, sparing you hours of frustration. You can save a substantial amount of money on your energy bills by using a gas fireplace, and you will enjoy an evenly heated home at the same time.