Skip to Content
Factors to Consider When Choosing a New Fireplace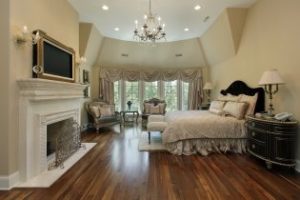 Fireplaces act as stylistic centerpieces, anchoring the design of a room or an outdoor space while also providing a welcoming area for relaxation or socialization. Whether you are updating an older fireplace or installing a new fireplace in your Ramsey home, there are several factors to consider when choosing the product that is best for your needs and personal preferences.
Size
Fireplaces are available in a wide variety of sizes, allowing you to choose the piece that best fits into the space you have provided. Large fireplaces are more easily visible, and often take center stage in a room's decorative scheme; however, if you'd prefer your fireplace to act as more of an accessory than a standout piece, a smaller fireplace may be the best choice. Particularly if you want to install a wood-burning fireplace, keep in mind that the size of the feature will also determine its capacity.
Mantel
Fireplace mantels were originally designed to catch smoke, soot, and ash as it rose above the fireplace. Today, mantels may or may not provide this function, but are also considered the main design element of the fireplace itself. Fireplace mantels are available in a variety of materials, including wood, stone, and metal; consider a mantel that matches the materials you've chosen for the rest of your home. You'll also want to consider the size of the mantel and how it relates to the overall size of your fireplace to get a mantel that is proportional to your fireplace.
Fuel
The two most common fuel types available for fireplaces today are wood and gas. Wood-burning fireplaces require the continual addition of fuel, as well as regular cleaning to address debris left by combustion. However, these traditional fireplace features will work even when your gas service has been interrupted, and are often a matter of personal preference. A gas fireplace requires very little maintenance and care for the utmost in convenience, but may be more costly to install if your home does not have an existing gas line.