Skip to Content
The Process of Converting Your Wood Fireplace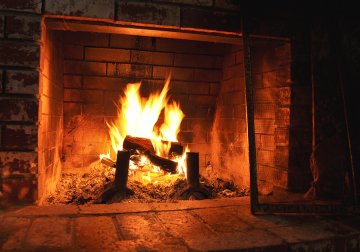 While wood-burning fireplaces still have their uses, many homeowners are making the decision to switch to gas fireplaces in Ramsey. Fortunately, your professional fireplace installation and maintenance company can help you convert your old wood fireplace into a new fireplace that is safer, more convenient, and more efficient. After you have your fireplace area inspected, choose a new style, and call a qualified professional, you can enjoy your new fireplace. Read on for a closer look at the process of converting your wood fireplace.
Inspection and Extension
If you have already been using your wood fireplace, the conversion process starts with a thorough inspection of your chimney. Use of your wood burning fireplace could have led to the buildup of creosote in your chimney, and this creosote has the potential to catch fire. Once you have had your chimney inspected, the next step is to determine whether or not your home is ready for a new type of fireplace. If you do not already have a gas line in place, you will have to extend your gas line during the conversion process.
Conversion Choice
You have decided to convert your wood fireplace, but what is your end goal? Consider the way you plan on using your fireplace to determine what kind of fireplace you would like to end up with. Many homeowners choose gas log kits or gas fireplace inserts when converting their wood units. If speed is an important factor of your conversion process, you might want to choose gas log kits. These kits will keep your fireplace looking much like it does already, although you will probably feel less heat after the conversion. A gas fireplace insert is helpful when you are looking for a full makeover or a unit that can run for hours at a time.
Professional Fireplace Company
When you have your chimney inspected, your gas line extended, and your conversion choices laid out for you, make sure you are working with a trustworthy professional. It is always wise to seek a licensed and bonded fireplace company that carries insurance and stands by their work.