Skip to Content
What Are the Different Types of Fireplaces?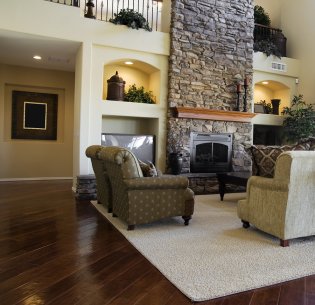 Whether you're building a new home or renovating your existing one, installing a new fireplace can add a beautiful centerpiece inside your home, not to mention a functional heating element that can help keep you and your family comfortable during those crisp fall and winter nights. Fireplace showrooms in Ramsey can provide you with inspiration for the look and feel of your new fireplace, but before you start shopping you should learn about some of the different types of fireplaces available for your home.
Wood Fireplace
The word "fireplace" conjures up the image of burning logs, the smell of wood smoke, and the sound of crackling flames. Installing a wood fireplace will give your family room, master bedroom, or study a timeless look that will harken back to the fireplaces of old. A custom fireplace installer will help you design a beautiful mantel and surround for your new wood-burning fireplace.
Gas Fireplace
More and more popular these days are gas fireplaces, which burn either natural or LP gas to provide primary or secondary heat. Gas fireplaces can be vented through a wall using a power vent, allowing for more flexibility when it comes to where you can have your fireplace installed. Gas fireplaces also do not require special flooring or a hearth front. The benefits of gas fireplaces have also resulted in an increased number of wood-to-gas fireplace conversions.
Fireplace Inserts
If you are thinking of remodeling your home and want to give your fireplace a sleeker and more modern feel, consider a fireplace insert. These heating products are installed directly into existing masonry fireplaces and are incredibly efficient heat sources. Fireplace inserts can also give the authentic appearance of a wood-burning fireplace, so you won't lose any of the appeals of your existing fireplace while increasing the room's heating and comfort.