Skip to Content
Choosing the Best Gas Fireplace for Your Home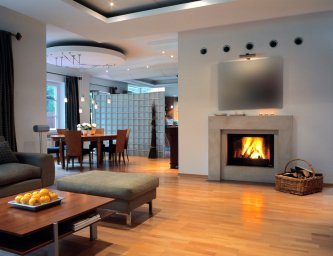 Whether you have a wood-burning fireplace at you home that you want to convert to a gas one, or you're interested in installing a gas fireplace in your bedroom, enlist the help of an experienced fireplace professional who's knowledgeable about gas fireplace inserts and mantels, as well as gas fireplace refacing in Ramsey. Here are some tips to help you choose the best possible gas fireplace that suits your needs and budget.
Pick a Gas Fireplace that Complements Your Home's Design Scheme
Gas fireplaces come in a wide variety of styles that can fit in with any design scheme. If you're replacing your wood-burning fireplace, but still love the look of burning logs, you can opt for a gas fireplace that looks like a traditional, wood-burning fireplace—complete with replica logs that look like the real things. If ultramodern minimalism is your style, you can go with a hearth that's sleek, futuristic, and sophisticated.
Know What Your Heating Needs Are
Before you pick out your new gas fireplace, you should determine what your heating needs are. Ask yourself this question: Am I going to use my new gas fireplace as my main source of heat for my home, or do I intend to use it more for ambiance? If you're using your new gas fireplace for heating, go with a high-efficiency model that can produce a good amount of heat—anywhere from 30,000 to 40,000 BTU.
Consider Venting Options
There are three venting options available for gas fireplaces: natural vents, direct vents, and vent-free. Natural vents take advantage of existing chimneys in homes to exhaust the combustion waste produced by gas fireplaces. Direct vents draw in air from outside for combustion purposes and then exhaust the spent air back outside via special venting systems, which don't require existing chimneys. Vent-free fireplaces utilize similar exhausting systems (catalytic converters) that are found in new cars. These systems clean hot air as it leaves the combustion chamber.