Skip to Content
Touring the Different Fireplace Mantel Styles
While your gas log fireplace may be beautiful in its own right, a fireplace mantel in Ramsey can allow you to round out the whole picture. Fortunately, fireplace mantels come in a range of designs and styles including wood, cast stone, and limestone. You can also enhance these styles by adding your own décor to your new mantel in order to create a uniquely beautiful and personalized focal point. Keep reading if you are interested in touring the different fireplace mantel styles.
Wood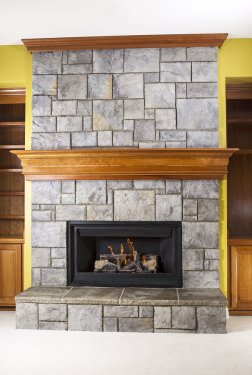 If you have seen a few fireplaces in your lifetime, chances are you have seen a wooden mantel. This type of mantel is among the most popular, due in part to its impressive versatility. Wood mantels can fit into the most intricate and ornate interior designs as well as they can fit into a sleek, modern aesthetic. Wood is also the easiest mantel material to paint, so you have the ability to change its color in the future if so desired. On the other hand, the variety of options that wood mantels present can also look exceptional when stained rather than painted. Hardwoods like oak, cedar, and cherry tend to be popular choices for fireplace mantels.
Cast Stone
Many homeowners enjoy the look of a natural stone fireplace mantel but are turned off by its price tag. Fortunately, cast stone mantels can emulate that look at a more affordable price. Cast stone also offers the advantage of complete customization; since the manufacturers will create a mold for your mantel, you get to decide exactly how it will look. This type of mantel is easy to install because it comes out of the mold in one piece. Keep in mind, however, that it might take a few able-bodied people to transport your cast stone mantel.
Limestone
Cast stone is not quite as luxurious as real natural stone, which means that it just will not do for some homeowners. These individuals may be more interested in true limestone for their fireplace mantels. These mantels are beautiful and effective, but they are more costly and difficult to customize.