Skip to Content
Ideas for Your New Fireplace Design
Many older homes feature wood-burning fireplaces in Ramsey. However, unlined wood-burning fireplaces are not very efficient at heating your home, and the smoke from the fire can pose a health risk if the chimney and flue are not kept in pristine condition. If you want to keep the traditional look and feel of a roaring fire but bring the efficiency and design into the 21st century, here are some ideas for your fireplace upgrade :
Fireplace Inserts
A fireplace insert helps keep the heat generated by the fire inside your home, while also ensuring that harmful smoke doesn't get into your living space. If you absolutely must have a real wood-burning fireplace, you can have a special insert installed. However, a modern gas fireplace insert still provides the aesthetic of dancing flames without the smoke that comes from burning wood. Gas inserts are also much more energy efficient, and since the gas fire doesn't produce any smoke you will not have to have your chimney cleaned.
Fireplace Mantels
The mantel is the shelf above the fireplace, where homeowners often place photo frames, family mementos, and other cherished objects. Modern minimalist designs often feature floating mantels, which are drilled directly into the wall above the fireplace. They can be made from stone or wood, depending on the decor you choose for the room and your own personal design preferences.
Fireplace Surrounds
The most traditional fireplace designs feature fireplace surrounds, which are accent pieces that frame the firebox on three sides, stretching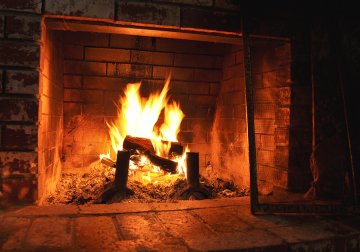 from the floor up to the mantel. If you have a historic home with details such as crown molding, a wooden fireplace surround may be the best aesthetic fit. In a modern home, you can choose a stone or marble fireplace surrounds.
Fireplace Hearths
The hearth is the portion of the floor directly in front of the fireplace, which is usually made from a heatproof material, often different than the flooring material in the rest of the room. The hearth may be made from the same material as the fireplace surround. Often, Hearths are made of stone, though they can be covered in tile.